View GMO Sign improvements and new features releases for the month June 2022.
Power User - A new role in GMO Sign
A new role has been introduced in GMO Sign whose name is Power User. GMO Sign inhouse user can have privileges of the administrators but, with few restrictions.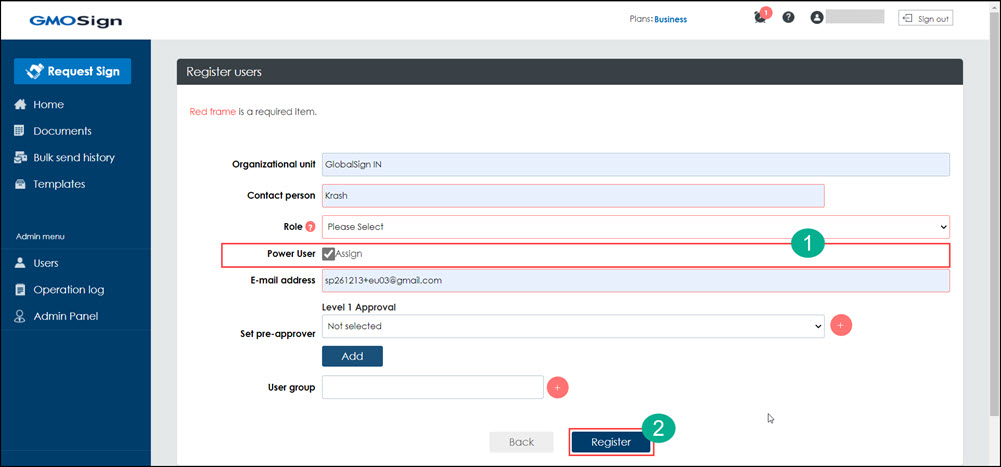 Note - By default, this user role option is unavailable for onboarded GMO Sign customers. They have to contact GMO Sign sales executive to get it activated.
Privileges provided to Power User
| | | |
| --- | --- | --- |
| 1. | (Except for Administrators and Administrators + Signer role) | |
| 2. | Template Management | |
| 3. | Admin Panel Operations | All the options like 2FA settings, Time zone settings, CFR-21 compliance, etc., present in Admin Panel can be performed by Power User. |
| 4. | Track Operational Logs | Power user can track the operational logs for recording the activities performed by other users on GMO Sign account. |
| 5. | Combined with Other User role | A power user can be consolidated with other user roles like - Signer, Document Reader, and Document Manager. The authorities of the second role will be combined with power user and then, he will be able to generate the requests too. |
| 6. | Documents Management | Only the documents being generated or signed by the Power User will appear in Documents section. Alike administrators, this user role does not have privileges to access all the documents. |
| 7. | Save customize brand image | Power User can define customize image for other user roles by editing their user profiles. |
Document Download option for Signer & Document Reader
GMO sign users with Document Reader and signer role can download the signed file along with certificate. These files would be the ones whose workflow has been created, files has been signed by you, or you have the access right for the files through folder. However to utilize this feature, Administrators or Power User has to activate the option either through user profile or bulk CSV user file.
For more details, read this support article.
New date field for requestors and signers
A new date field has been introduced at the time of placing signature in a workflow request. Users can drag-drop this field (like they do for placing signature icons) and enter a related custom text in Placeholder field. They can define a date entry mandatory for signers by enabling the checkbox of Required text. [Video Preview]

When a signer opens a document to be signed, he would notice a Date field being added in checklist. He has to click on the date icon and select value from the calendar. The date format would be YYYY/MM/DD. [Video Preview]

Additional Signer Entries in GMO Sign Templates
Signer details like signing type, internal or external signer type, allow signer change, and comment - all these entries can now be filled in template itself; instead of defining them during the workflow request. Now onwards, template owners or editors can define all the essential fields in it and then, restrict editing of the pre-defined settings of crucial templates.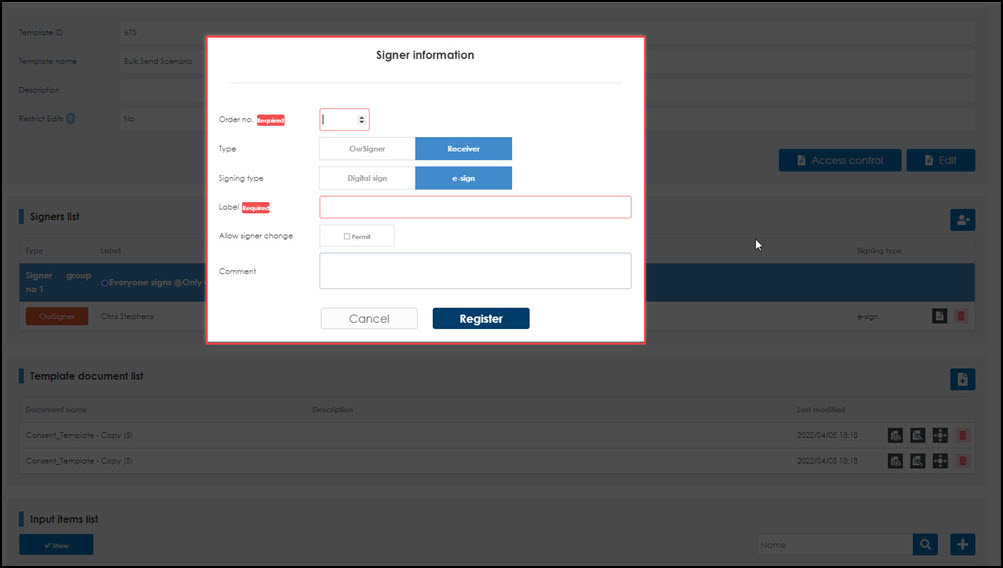 Setting for OR signer in templates
OR Signer support in a simple workflow request has been admired by GMO Sign customers. Keeping the positive feedback in mind, we came with OR support in Template's Signer section. Template owners can define 'anyone of them signs' option where more than one signers are involved in the same signature order.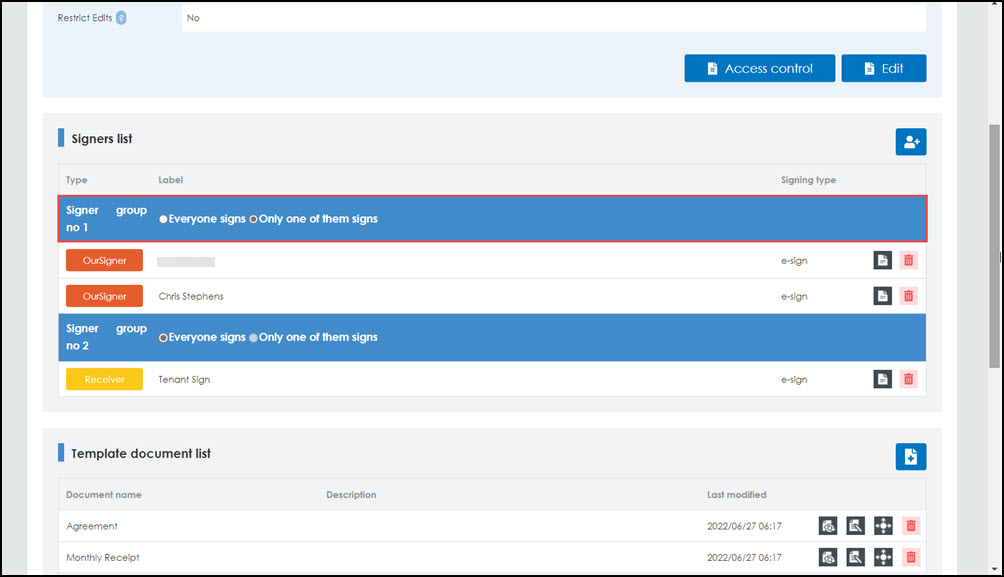 Prerequisites :
Following fields should be same in Signers' Content section of templates while enabling the 'Only one of them' option :

Signing Order
Signing Type
Destination
Required Actions

In case anyone of the field is different then, requestors would receive an error message (shown in the below screenshot)
Templates Advance Search
GMO Sign template has 2 new search fields - Template ID/Template name and Select User group. Now onwards, customers can track their required template from bulk easily just by entering template's name, ID, or the user group who has permission to access the targeted template.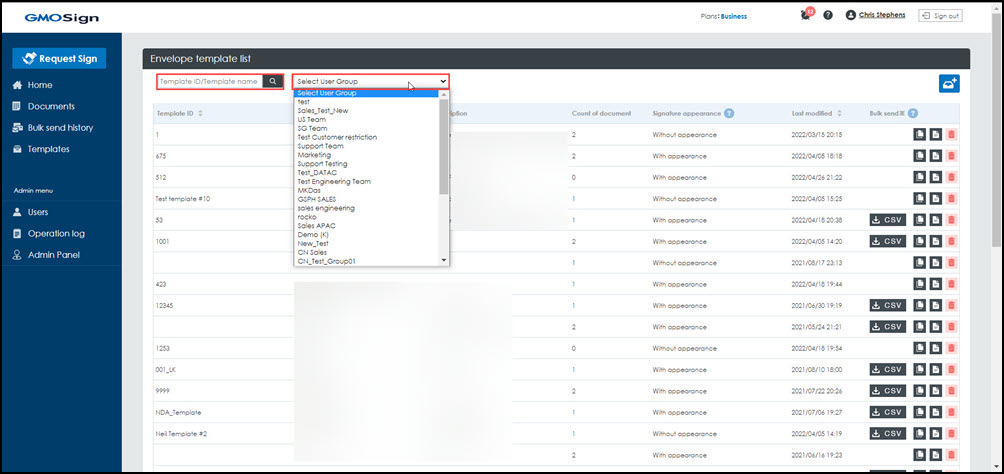 For more details, visit this article.
Copy Existing Templates With Properties
GMO Sign provides a useful feature for business people where they can copy their existing templates within few seconds. This functionality creates a duplicate copy of template with all defined properties like Signer Contents, Template documents List, Input Inset Items, etc.

Count of Templates Increased to 10K
From 30 to 10,000, the count of template has been increased on June 27, 2022. Well, you can visit this website to learn the way to create new templates in your GMO Sign account. Enterprises can create templates up to 10,000 and use them in workflows for easy and quick experience of sending the signature request. Also, users can share templates with different user groups, and permit other user roles to access it.
Workflow List View Tab
A new tab in Documents section has been introduced - Workflow List View. In this tab, GMO Sign users can see the status of each workflow - Unsigned (External), Unsigned (Internal), Approval (Pending), etc., with details. Every user role in GMO Sign will be able to view this new tab in their Documents section and that too without paying any extra charges.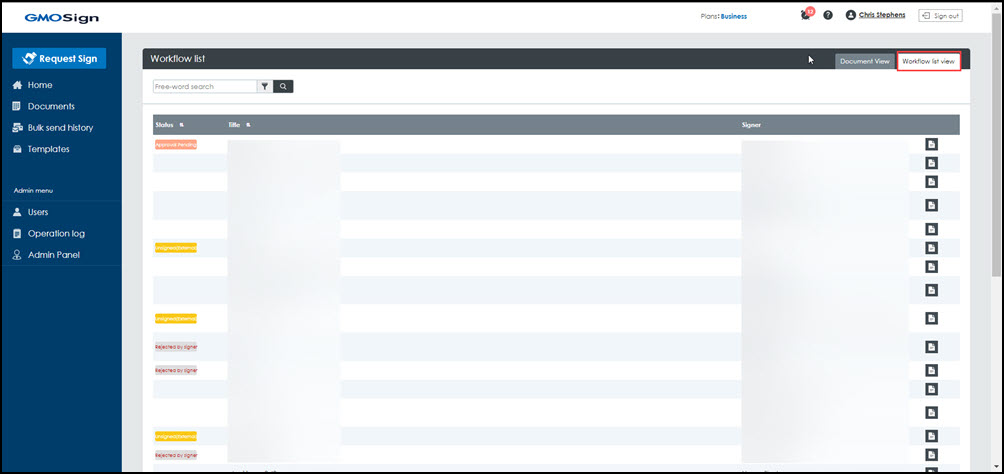 New Options for Signers
Sign Later, Reject the Workflow, View Sender's or Approver's Comments - These three options are provided in Others drop-down menu of Signers. No matter whether an individual has GMO Sign account or not, a person signing GMO Sign documents can reject the documents and view comments without opening the request email. Read this article for more details.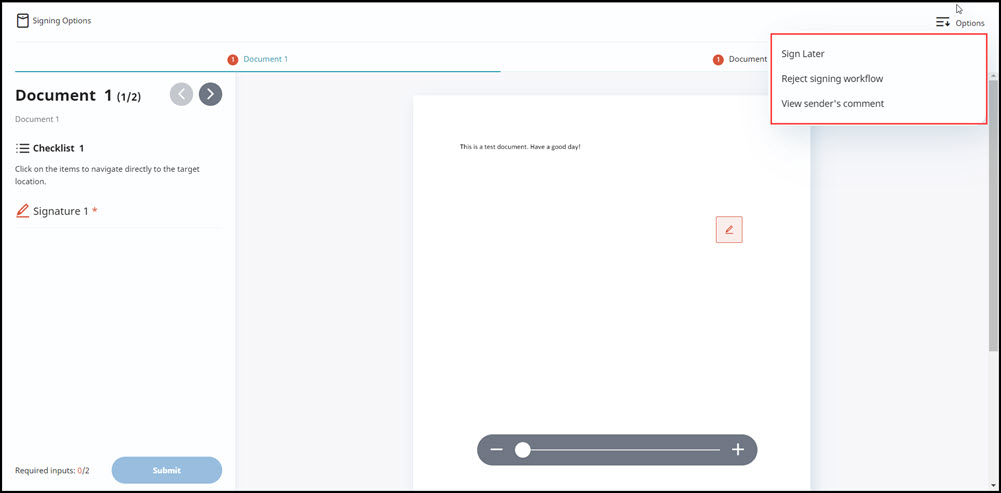 Fetch Documents on Basis of Last Signature Date
Get the details of each document based upon the last signature date. Simply mention the date range in dedicated text field and achieve the details being required in few seconds. Visit this article for in-depth knowledge.

Enable or Disable Sending of Reminder Emails
You can customize the settings of sending reminder emails to signers (who has not signed the pending documents) through Admin Panel settings. This feature is available Administrator and Power User in GMO Sign. Go to this support guide to collect more information regarding the same.

Support in Thai, Vietnamese, and Burmese Language
GMO Sign supports customers who have Thai, Burmese, and Vietnamese language set for account and web browser. Enhance your experience with our signing solution in your preferable language.