Related Article – Generate Digital Signature workflow requests
Step 1 - Upload Documents
(1) Click on the Request Sign button and then upload one or more documents. Click Next. [Video Preview]
Notes –
The document can be uploaded in PDF or Word file format. The file to be uploaded should be password-free and up to 50MB in size.
GMO Sign does not support electronically or digitally signed document for creating the workflow request.
These documents can be added in GMO Sign workflow request - PDF files, Word file formats, Excel file formats, and PowerPoint file formats.
Up to 100 documents are allowed to be added in a single workflow request. However, the overall envelope size should be 200 MB.
You can draft the workflow request instead of sending it for a meantime. Later, you can go to 'Drafts' section and retain enter values of drafted workflow from initial stage. For more details, visit this website.

Step 2 – Add Workflow & Signer Information
(2) Add Workflow details including:
Required :
Optional :
[Video Preview]

(3) Click the Add Signer Icon under the 'Signer Contents' section and enter the signer's details.
For e-Signature workflows, there can be multiple signers that are internal employees and/or external "counterparties".
In the case of multiple signers, the signing order can be sequential, parallel or hybrid signing order.

In Parallel Signing

- Both counterparty and inhouse signers are set as the first signer (Order No.1). In this case, both signers will receive a Signing request email simultaneously.

Select whether the signer is part of your organization (inhouse) or an external user (counterparty).
Note: For electronic signatures, recipients do not need GMO Sign Accounts or signer roles to electronically sign the document.
Choose e-sign as the Signature type.
Counterparty or External Signers
Email address and Signer name for external counterparty signers are required fields. [Video Preview]

Optional fields:

Company Name

Comment

Language – By default, the email language is set to English. If required, you can change it to Japanese or Spanish.
Required Actions for the Document -

For a single Document: The Request Sign action is required.

Optional for Multiple Documents :

Confirm - Review document; not sign.

Nothing – Notification only.

Click on Save.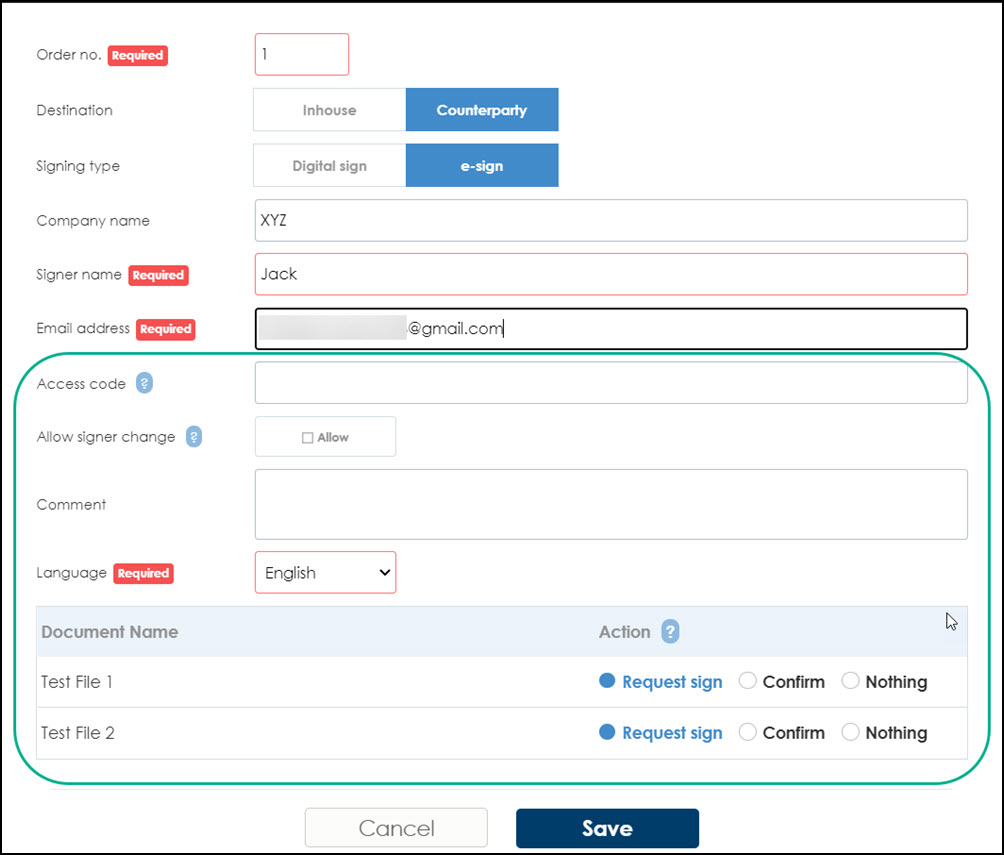 Internal or "Inhouse" Signers -
Select Inhouse and e-sign.
Use the drop-down list of GMO Sign users to select the Signer's name.
The other fields are the same as shown in the counterparty section.
Click Save to proceed.
[Video Preview]

Step 3 – Set Signature Position
(4) Optionally, set receiver settings.
(5) Click on Next and set signature position within the Documents.
Set Signature Position - Drag and drop the signature pen onto the document. You can minimize or maximize the signature image size. [Video Preview]

Add Textboxes in Files - Optionally, add textboxes for the signer to add necessary details. Enter placeholder text to display the desired text. [Video Preview]

Apply checkboxes - Make the textbox fields required by using checkboxes.

Sender Textbox – If required, senders can add a textbox to be printed inside the document.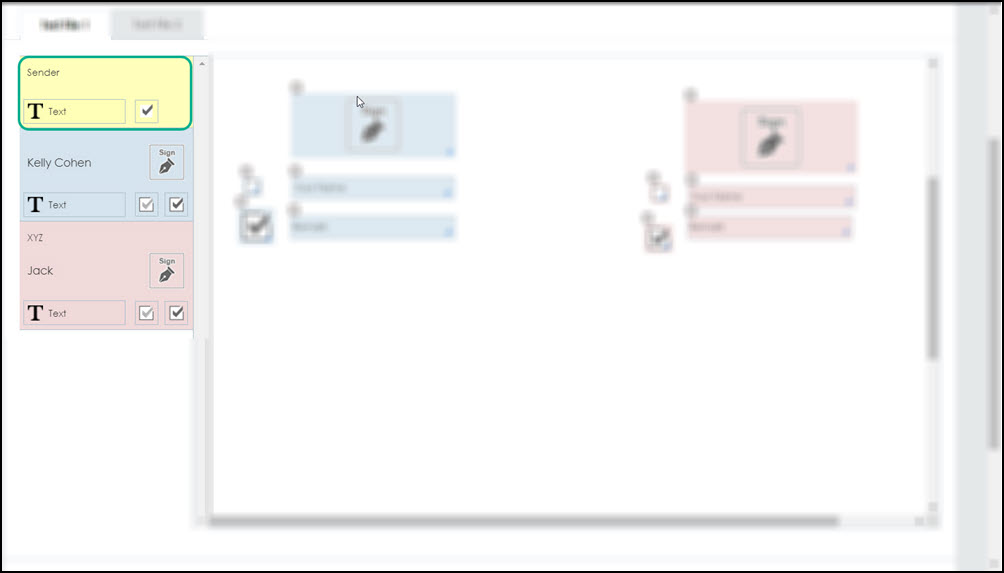 Tip – For multiple documents in a workflow, click on each Tab (Document Name) to Set each Signature position.
(6) Click on Next to proceed towards the final stage of workflow.
Step 4 – Review and Send
(7) Review the workflow details and then click Send.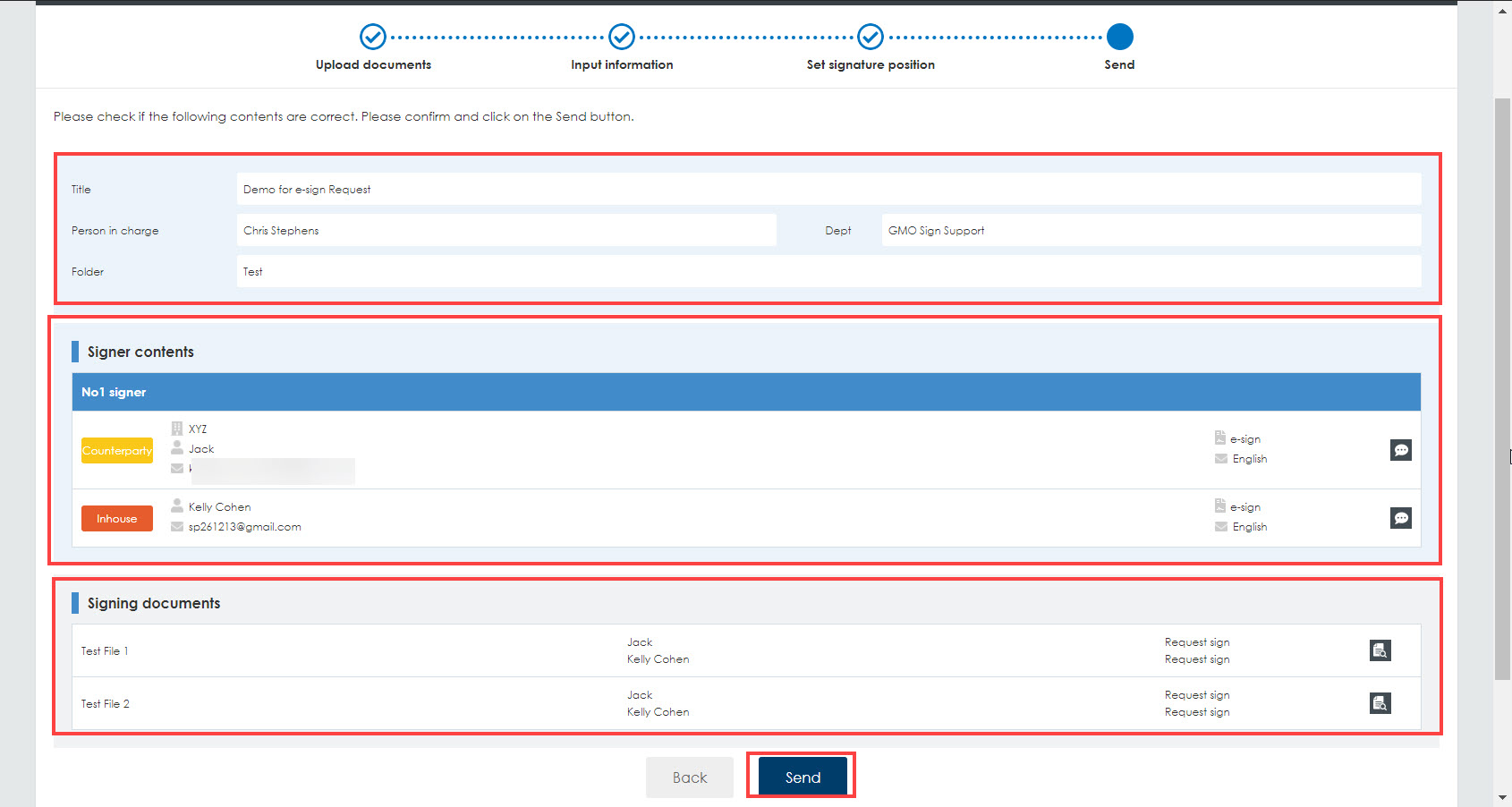 What Happens At Signer's End?
A Signature Request email will be sent to each signer mentioned in the workflow. Refer to this article which explains how to apply an electronic signature.