Related Article – Generate Digital Signature workflow requests
Step 1 - Upload Documents
(1) Click on the Request Sign button and then upload one or more documents. Click Next. [Video Preview]
Note – The document can be uploaded in PDF or Word file format. The file to be uploaded should be password-free and up to 50MB in size.

Step 2 – Add Workflow & Signer Information
(2) Add Workflow details including:
Required :
Optional :
[Video Preview]

(3) Click the Add Signer Icon under the 'Signer Contents' section and enter the signer's details.
For e-Signature workflows, there can be multiple signers that are internal employees and/or external "counterparties".
In the case of multiple signers, the signing order can be sequential, parallel or hybrid signing order.

In Parallel Signing

- Both counterparty and inhouse signers are set as the first signer (Order No.1). In this case, both signers will receive a Signing request email simultaneously.

Select whether the signer is part of your organization (inhouse) or an external user (counterparty).
Note: For electronic signatures, recipients do not need GMO Sign Accounts or signer roles to electronically sign the document.
Choose e-sign as the Signature type.
Counterparty or External Signers
Email address and Signer name for external counterparty signers are required fields. [Video Preview]

Optional fields:

Company Name

Comment

Language – By default, the email language is set to English. If required, you can change it to Japanese or Spanish.
Required Actions for the Document -

For a single Document: The Request Sign action is required.

Optional for Multiple Documents :

Confirm - Review document; not sign.

Nothing – Notification only.

Click on Save.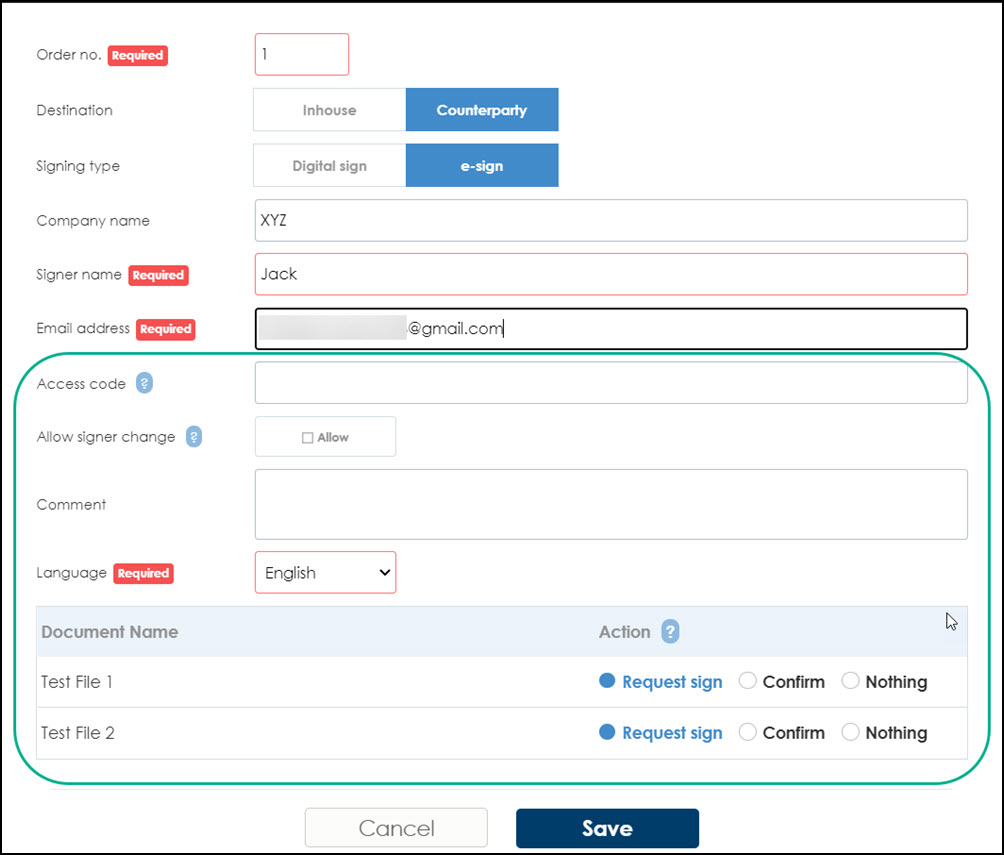 Internal or "Inhouse" Signers -
Select Inhouse and e-sign.
Use the drop-down list of GMO Sign users to select the Signer's name.
The other fields are the same as shown in the counterparty section.
Click Save to proceed.
[Video Preview]

Step 3 – Set Signature Position
(4) Optionally, set receiver settings.
(5) Click on Next and set signature position within the Documents.
Set Signature Position - Drag and drop the signature pen onto the document. You can minimize or maximize the signature image size. [Video Preview]

Add Textboxes in Files - Optionally, add textboxes for the signer to add necessary details. Enter placeholder text to display the desired text. [Video Preview]

Apply checkboxes - Make the textbox fields required by using checkboxes.

Sender Textbox – If required, senders can add a textbox to be printed inside the document.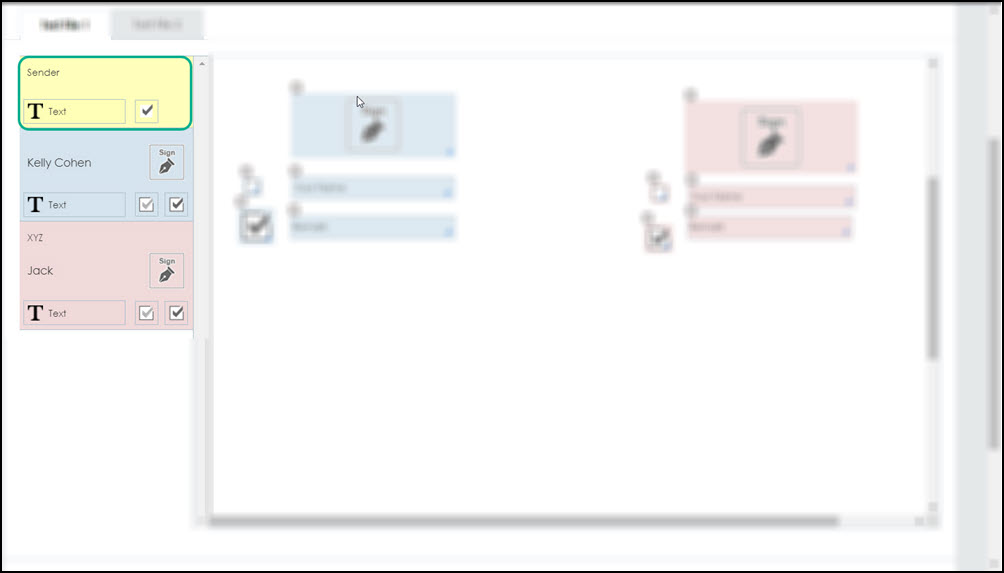 Tip – For multiple documents in a workflow, click on each Tab (Document Name) to Set each Signature position.
(6) Click on Next to proceed towards the final stage of workflow.
Step 4 – Review and Send
(7) Review the workflow details and then click Send.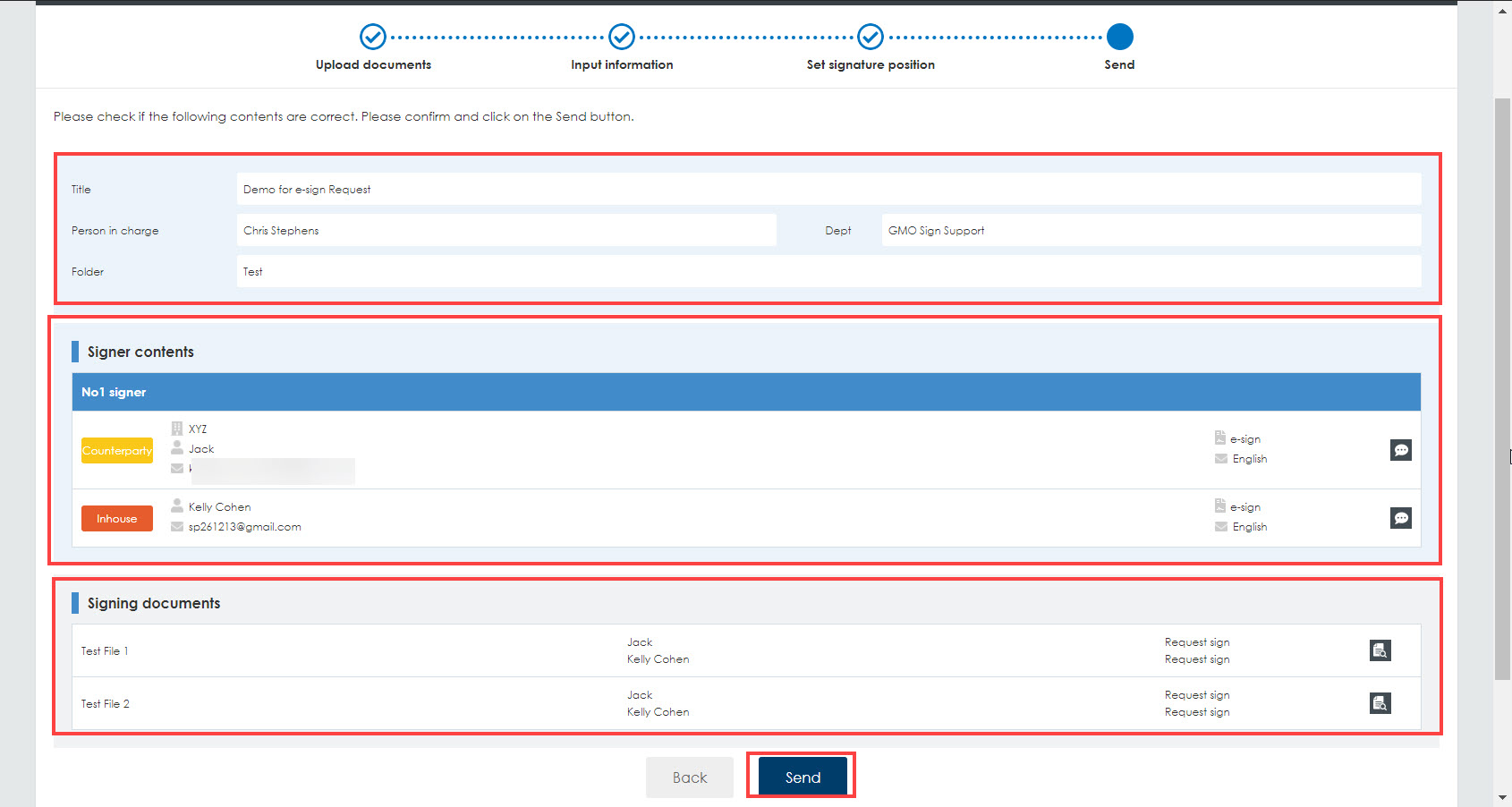 What Happens At Signer's End?
A Signature Request email will be sent to each signer mentioned in the workflow. Refer to this article which explains how to apply an electronic signature.