If you are unable to sign requested document, you can assign it to someone else. For instance – you may require this in case you are promoted to another designation and no longer responsible for signing certain types of documents.
Only the email address and name of new signer is required to change signing responsibility.
Note – The option to 'Change Signer' might be unavailable because it depends on the settings defined by the sender. If he or she has enabled Change Signer settings in the workflow, it is possible; otherwise not.
How Receiver can Change Signing Responsibility?
(1) Open the mail subjected as Signing Request Received <Workflow Title> and click on Sign the Documents button.
(2) A page titled as 'Choose Signer' launches. Now, take the decision of signing the document yourself or change it by assigning the request to new signer.
Tips –
• Click on

View [Envelope: <Envelope Name>

present below the page. This helps in previewing each document present in the workflow.
• Select

Sign yourself

radio button to complete the workflow on your own.
(3) Choose New signer details to change the responsibility of signing documents. Enter the name and e-mail address of new signer, and then click Next. [Video Preview]

(4) At last, a message statement indicates that you have set a new signer.
All signature positions and text fields that were allotted to you are now allotted to the new signer. He or she receives an email with subject line – Signing request received to preview and sign the document(s). Now, the New Signer can click on Sign radio button to apply signature on the requested files. In case new signer is not responsible for signing the attached document then, he or she can use Change Signer settings.
How Sender can Enable Change Signer Setting?
This custom setting is present only for e-sign signature request. So, while generating the workflow for inhouse or counterparty, sender can activate Allow Signer Change option in 'Input Signer Contents' field. It allows signers to change signing authority for requested documents. [Video Preview]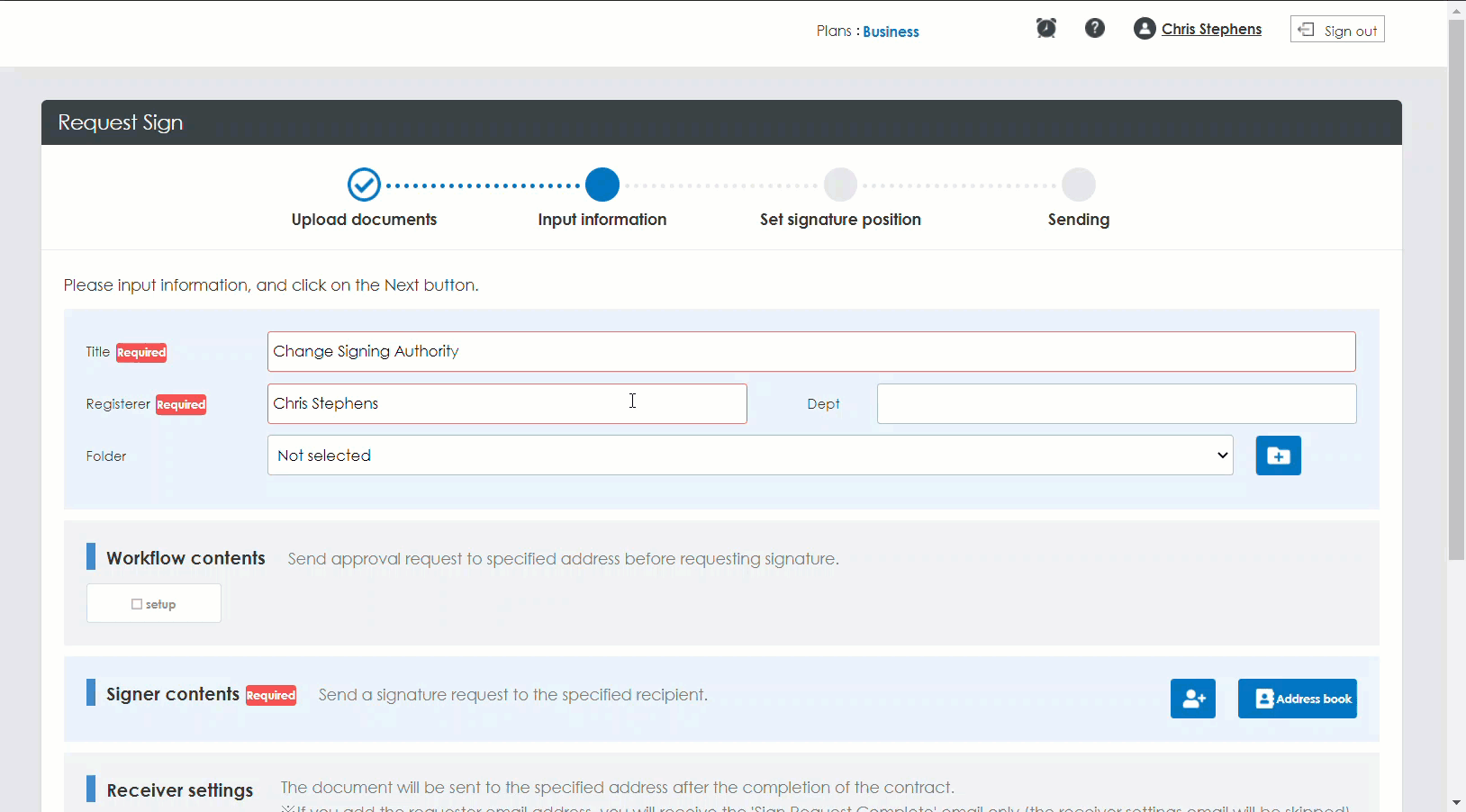 Further, set the signature position and send the signature request to signer(s).