You can register a frequently used PDF document as a template in GMO Sign. It eliminates the time needed to upload frequent agreement files for signing workflow.
Please Note - You can register templates for up to 10,000 in a GMO Sign account.
Different operations on templates can be done by "Administrator" or "Document Manager" role user.
Add (or Register) a New Template
1. Click on Templates from GMO Sign home page and click Add icon
2. Input the template name and click Register.
3. Now, your new template has been registered and it gets listed in Envelope template list. [Video Preview]
Edit Details of New / Existing Template
4. For additional settings, click on Edit icon. This opens a 'Envelope template edit' screen. Set items for Signers list, Template document list, and Inset items list. [Video Preview]
5. Signer List - Enter the required information of signer. For demonstration, let's perform signing between 2 parties. [Video Preview]
• order no.: 1 [mention the signature order]
• type: receiver
• label: general information of the receiver
(Set the data for the receiver 2 in the same way)
• order no.:2
• type: receiver
• label: Counter party
[Video Preview]
Define 'Label' - The label appears on the receiver's name field. It is used to identify which receiver information should be entered in which receiver field. It makes it easier to identify a receiver when there are multiple receivers.
Extra Note - It is not essential to mention a number sequence in order number field. You can define parallel signing sequence. It enables mailing of signing request to several users simultaneously .
6. Template Document List - You have to select a document to be registered as a template. Either drag-drop or manually select files for browsing purpose.
7. This opens an 'Envelope template registration edit' page to define basic settings for added document.
8. Choose an operation type (Sign / Display / None) for each receiver. For demonstration, we are using Sign operation for both the signer parties.
9. Click on Register button. Also, you can use Add button of 'Template Document List' to browse more than one templates. [Video Preview]
10. Now you will notice four different buttons adjacent to the added template(s).
Replace PDF - Use this to replace the existing document with new one. Do this by clicking on its icon, selecting PDF, and confirming with "Renew" button.
Edit Button - You will be navigated to "Envelope template document edit" screen, same as step 7.
Edit Position Button - Change the current signature position in each template.
Delete Icon - Delete the added document from template by using this button.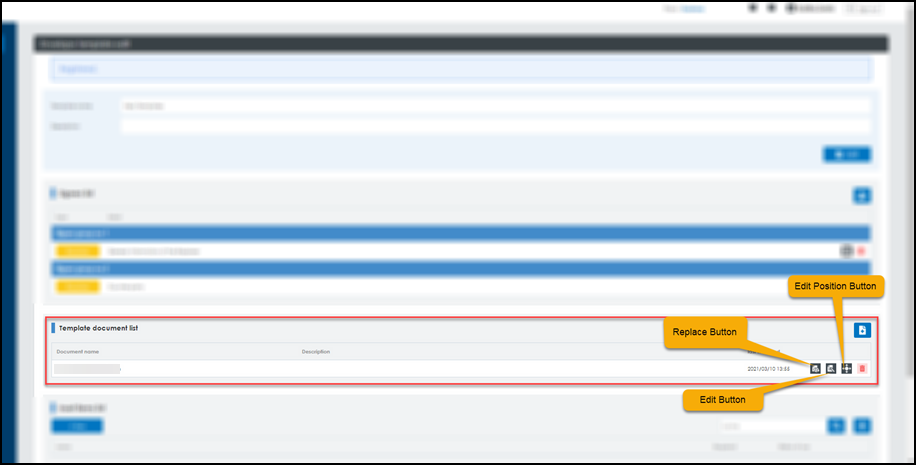 11. Set the signature by clicking on Edit Position button. Set the positions for textboxes and Sign fields as you usually do and confirm with Renew button. [Video Preview]
12. Inset Item List - Use this template feature to add additional parameters in each document. These parameters are filled by requestor just before sending the workflow request. Read the following instructions to understand its working :
Click on + icon and enter the parameter name.
Mention the importance level of this parameter – whether it is mandatory to be filled or is optional. [Video Preview]
Note – Select 'required' radio button to set the parameter as mandatory field. Otherwise, select 'any'.
Click Register and add more than one items as per the requirement. [Video Preview]
Go to 'Template document list' and click on 'Edit Position' button of the anyone document. This document will be the one in which you want to add inset items. [Video Preview]
Drag-and-drop each parameter at the location where you wish the values to be entered by requestor.
Finally, click on Renew to complete the process in one document.
If required, follow step (d) to (g) to add these parameters in another document present in the registered template.