1. How are documents stored in cloud? How are they organized?
The documents are encrypted (AES 128) and stored in AWS EFS. The encryption gets stored in the database.
2. Which service is used for time stamping?
Timestamping services are provided by Seiko.
3. Where do I locate the CSV file for the bulk send feature in GMO Sign?
During the bulk send workflow process, you can find the "CSV file download" button.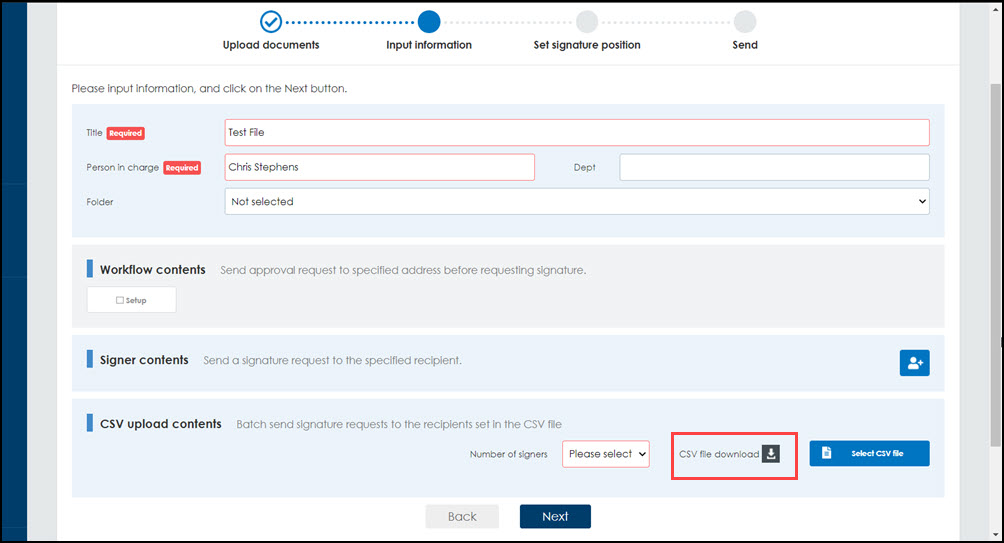 4. Why doesn't the Signature icon appear on my home page?
The Auto-document save feature might be inactive. Please check your user profile settings.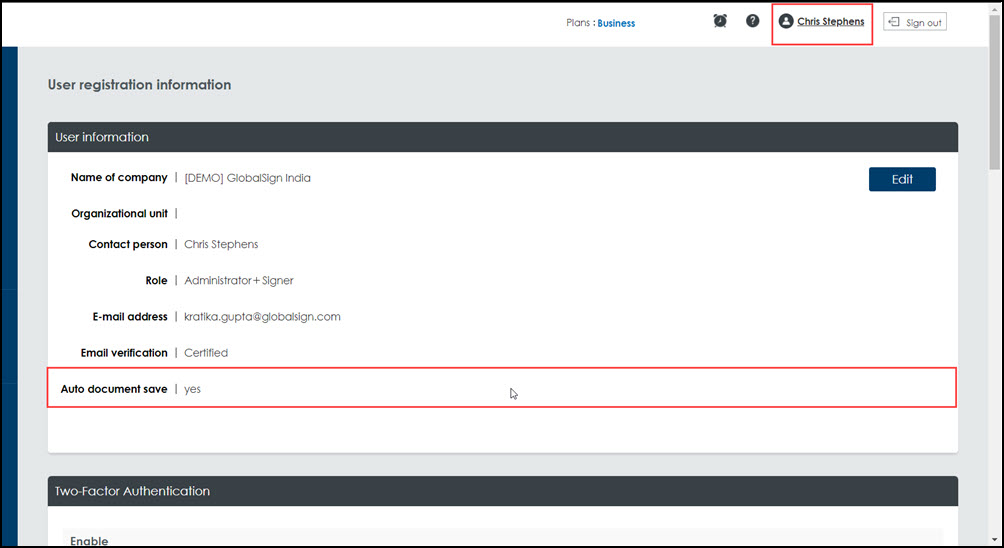 5. How do I customize and save my Digital Signature appearance to my GMO Sign account?
Please refer to
this
article for instructions.
6. I forgot my PIN Code for digitally signing. How do I reset it?
Please refer to
this
article for instructions on how to reset your PIN Code.
7. How many files or documents can we add in a single workflow?
In total, you can add up to 10 files in one workflow.
8. What happens if I enter an incorrect email address for the counterparty signer?
If the email address provided in the workflow does not exist, the requestor will receive a notification by email.
9. Why does the Synchronize message dialog box appear just after new user login?
The Synchronize message appears because there exist pending documents linked with email address of newly created account. If there is no workflow request related to that email address, such message does not appear.
10. Why I am not receiving emails from GMO Sign?
There can be several reasons for this. Please execute the following standard measures to fix the issue related to receiving of GMO Sign emails :
Check the network side on recipients end, and analyze whether all AWS services are active in their email account. Ensure that none of the services (linked with GMO Sign) should not be blacklisted.
Make sure that internet connection is active and there is no blockage due to the firewall settings.
Check Spam / Junk Email / All Mails folder in your email platform.
11. Where are folders located in GMO Sign?
Folders in GMO Sign account are present in Documents section >> Folder icon. Refer the attached video for reference.

12. Customer's Query : When a workflow request gets sent successfully, it generates different document numbers for requestors and signers. Although, the documents and workflow details are the same. Why this happens?
Just after sending the workflow request, requestors receive the actual document number. However, the signer receives a temporary document number (different from the actual one). Once all signers complete the request, the actual document number gets displayed for both parties.