1. How are documents stored in cloud? How are they organized?
The documents are encrypted (AES 128) and stored in AWS EFS. The encryption gets stored in the database.
2. Which service is used for time stamping?
Timestamping services are provided by Seiko.
3. Where do I locate the CSV file for the bulk send feature in GMO Sign?
During the bulk send workflow process, you can find the "CSV file download" button.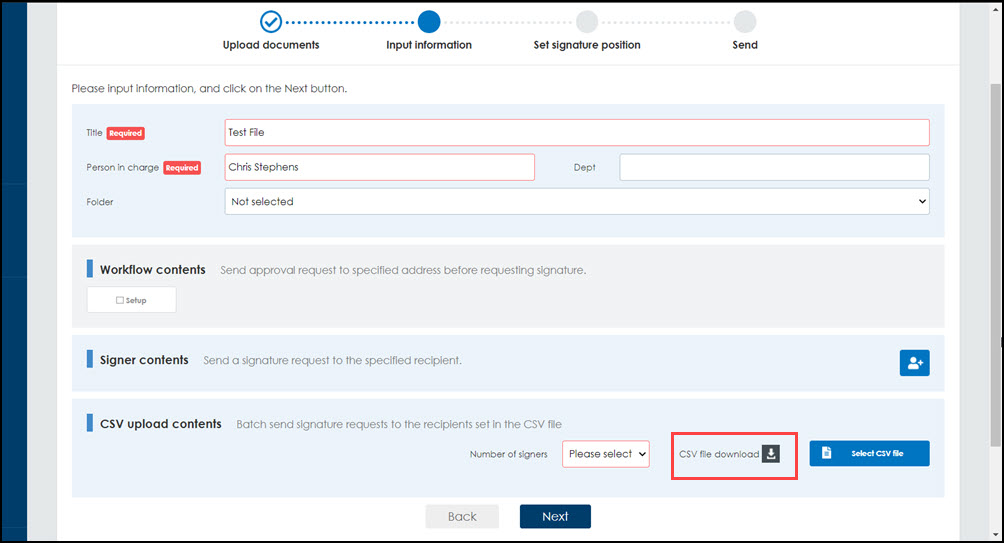 4. Why doesn't the Signature icon appear on my home page?
The Auto-document save feature might be inactive. Please check your user profile settings.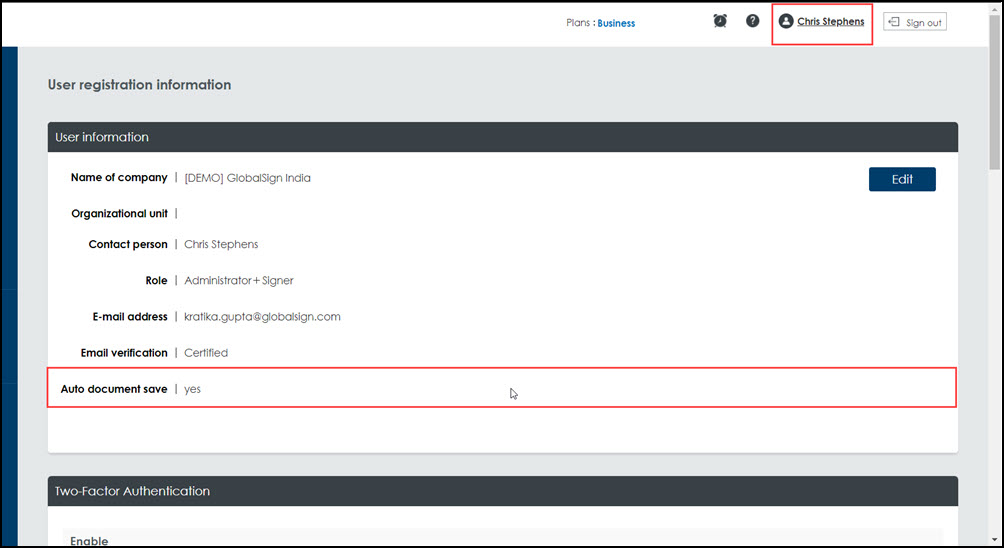 5. How do I customize and save my Digital Signature appearance to my GMO Sign account?
Please refer to
this
article for instructions.
6. I forgot my PIN Code for digitally signing. How do I reset it?
Please refer to
this
article for instructions on how to reset your PIN Code.
7. How many files or documents can we add in a single workflow?
In total, you can add up to 100 files in one workflow.
8. What happens if I enter an incorrect email address for the counterparty signer?
If the email address provided in the workflow does not exist, the requestor will receive a notification by email.
9. Why does the Synchronize message dialog box appear just after new user login?
The Synchronize message appears because there exist pending documents linked with email address of newly created account. If there is no workflow request related to that email address, such message does not appear.
10. Why I am not receiving emails from GMO Sign?
There can be several reasons for this. Please execute the following standard measures to fix the issue related to receiving of GMO Sign emails :
Check the network side on recipients end, and analyze whether all AWS services are active in their email account. Ensure that none of the services (linked with GMO Sign) should not be blacklisted.
Make sure that internet connection is active and there is no blockage due to the firewall settings.
Check Spam / Junk Email / All Mails folder in your email platform.
11. Where are folders located in GMO Sign?
Folders in GMO Sign account are present in Documents section >> Folder icon. Refer the attached video for reference.

12. Customer's Query : When a workflow request gets sent successfully, it generates different document numbers for requestors and signers. Although, the documents and workflow details are the same. Why this happens?
Just after sending the workflow request, requestors receive the actual document number. However, the signer receives a temporary document number (different from the actual one). Once all signers complete the request, the actual document number gets displayed for both parties.
13. Customer's Query : When I apply e-sign on the requested documents and reach at the end of entire procedure, I receive Invalid Token Error. However, when I try to refresh and try to sign documents again, the same error statement persists. Why does it occurs? What to do now?
In order to troubleshoot such type of errors immediately, attempt the following suggested workarounds :
Upload signature manually, instead of using the existing signature image.
In seal imprint section, replace the existing signature picture with the new one.
Switch the signature type on Signature customization panel from old to the new one.
If the error still exists, contact GMO Sign support team.
14. For how much time duration is the GMO Sign account locked after entering incorrect passwords for 5 times?
The account gets locked for 3 minutes and in case a user does not remember the password then, he can reset it. For this, simply click on the reset password option (present on the GMO Sign login page) and proceed with the instructions provided there.
15. Customer's Query : We have concerns regarding the language/text in GMO website, this happens from time to time when using GMO, from login page, to email notifications and in the portal website. Language is suddenly changing to Japanese text and what we do is refresh the page multiple times to make it back to English text and resend request sign documents just to make it readable to our signers. Why is this happening? How do we get rid of this?
Sometimes on GMO Sign website the English text appears to be in Japanese because of the communication interruption between browsers and technical servers. It happens due to the slow internet speed, delay in response by milliseconds, etc. GMO Sign team suggests you to immediately clear the GMO Sign cookies from browser settings in such case.
[ Video Preview]

16. Can we recover the permanently deleted documents from GMO Sign account, which has been erased even by Administrator?
Regarding the accidental or permanent deletion of document(s) by admin member, the particular user is solely responsible for this action, but a copy of document is kept as backup at GMO Sign server. This backed up file can be received by contacting GMO Sign Support team and for this activity, additional charges would be applied.
These files can be retrieved by contacting the GMO Sign Support team; additional charges might apply for this service. Customers need to provide complete details of deleted document(s) including its control number and wait for few working days (say, 4 to 5) to get back the requested files.
17. How do I add or remove users from user groups in GMO Sign?
For this, go to
Users
from the Admin account and click on
User group icon
. Now select the user group's name from drop-down menu and perform editing using add / delete button. [Video Preview]
For users to be eliminated from a user group, select the username(s) from 'Registered' column and click on Delete button.
For add users in existing user group, select the username(s) from 'Non-registered' column and click on Add button.
Please Note –
Users listed in the non-registered column do not have Administrator roles since Admins have access to all folders & documents.
The non-registered users are document manager, document viewer and signer roles. A single User can be added to one or more user groups.
Users listed in 'Registered' column are already the part of selected user group.

18. How can we revoke GCC Digital certificate for ex-employees of our organization? Is there any manual support from GlobalSign side or users can do on their own?
On a weekly basis, a batch run takes place in which the users' certificate are revoked automatically. Administrators have to
delete the GMO Sign account
for ex-employees who had left the organization and later on, batch process will revoke the certificates of respective users. .
19. How much storage space is provided to GMO Sign customers at organizational level?
At organizational level, there is no limit for end users using GMO Sign to request the documents for signature and storing them. However, we have an additional option named as
Scan document storage option
, which has limitation of 10GB per account.