Keep a track on improvements and new feature release announcement being made in GMO Sign. The release notes posted in this article are of September 2021 month. You can utilize latest features just after their official release date.
User Search Operation
GMO Sign administrators can search for registered users from the User List page. They can attempt searching based on username or combination of different conditions, which are applicable for users.
Click on Users from GMO Sign dashboard.
A User Search test box appears to attempt users search operation.
Either use username or mention the conditions for advance search by clicking on the Filter icon. [Video Preview]

Note - Use Clear button just after completing with search operation to change settings at default stage.
At one time, administrators can add multiple new users in GMO Sign. The can update details of existing users in bulk like edit user role, change basic account information, delete account, etc. Simply, download a CSV file from 'User List' section and use it for bulk user updates.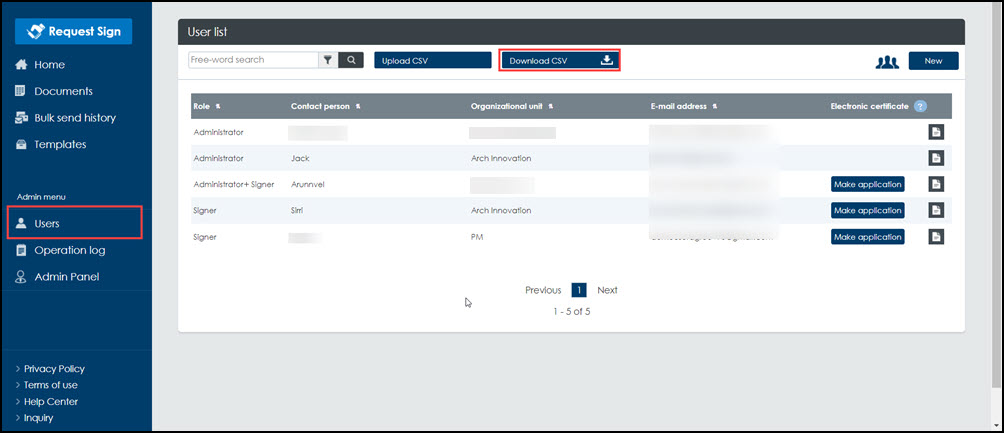 UI / UX of GMO Sign has been improved in this month. Message statements under different scenarios like signature complete, PIN Code change, etc., has been updated. The initiative is to improvise user interface of the workflow solution at business level.
Newly Designed Email Templates
Email templates has been designed in an attractive way. GMO Sign users will receive these eye-catchy templates in following scenarios :
Register new user through RequestForm / GMO Sign Admin Panel.
Signature request sent
Signature request received (Inhouse / Counterparty)
Workflow Approval request
Workflow Approval rejected
Forgot password
Bulk send requests
Bulk send requests approval rejected
Signature request completed (Inhouse / Counterparty)
Receiver Settings
Get New Updates on GMO Sign Home Page
From now onwards, GMO Sign customers will get notification at GMO Sign home page. These notifications will be related to maintenance, new updates, and other changes that take place in GMO Sign platform.